Last week, my coworker laughed and told me I was a "sunscreen elitist" after my earnest reaction to her less-than-favorable description of some residents in a tiny, backwoods town was, "Oh man, I bet they don't even use sunscreen!" I suppose it is a little funny, but in all seriousness, sunscreen is the most formidable weapon any of us can have in our anti-aging arsenal. Unfortunately, it can also be a little boring, so I like to spice it up whenever I can. The thing is, I go through sunscreen like water, so the expensive ones aren't sustainable for me. Instead, I opt to sample a variety of Asian sunscreens – Japanese ones are my favorite. Asian countries have been clued in to the value of daily UV protection for a very long time, and have managed to develop a wide variety of really pleasant, effective facial sunscreens. Biore UV Aqua Rich Watery Mousse SPF 50 / PA+++ is one of them.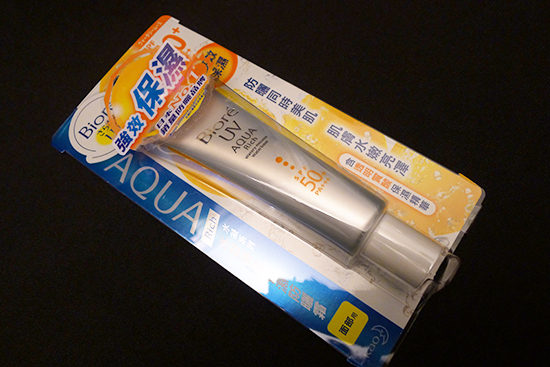 When I purchased Biore UV Aqua Rich Watery Mousse, I was already a fan of another sunscreen in the line, Biore UV Aqua Rich Watery Essence (which I reviewed here last summer). The Watery Mousse differs from the Watery Essence in that is more moisturizing, and therefore better suited for dry skin like mine.
What is it?
Biore UV Aqua Rich Watery Mousse is a Japanese sunscreen, that promises both UVB & UVA protection to the tune of SPF50 & PA+++ (the PA rating is it's UVA protection score). In addition to UV protection, this product promises to prevent moisture loss, keep skin moist and "glossy," and act as a makeup base, prolonging the wear of foundation.
Ingredients:
Water (Aqua), Cyclopentasiloxane, Ethylhexyl Methoxycinnamate, Alcohol, Titanium Dioxide, Polyglyceryl-3 Polydimethylsiloxyethyl Dimethicone, Dimethicone, Agar, Behenyl Alcohol, Microcrystalline Wax, Polyvinyl Alcohol, Ethylhexyl Dimethoxybenzylidene Dioxoimidazolidine Propionate, Acrylates/C10-30 Alkyl Acrylate Crosspolymer, Ceratonia Siliqua Gum, Sodium Stearoxy PG-Hydroxyethylcellulose Sulfonate, Hydroxymethylcellulose, Lauryl Methacrylate/Sodium Methacrylate Crosspolymer, Fragrance (Parfum), Potassium Hydroxide, Maltodextrin, Disodium EDTA, BHT, Butylene Glycol, Propylene Glycol, Citrus Grandis (Grapefruit) Fruit Extract, Sodium Hyaluronate, Citrus Medica Limonum (Lemon) Fruit Extract, Citrus Aurantium Dulcis (Orange) Fruit Extract, Phenoxyethanol, CI 77891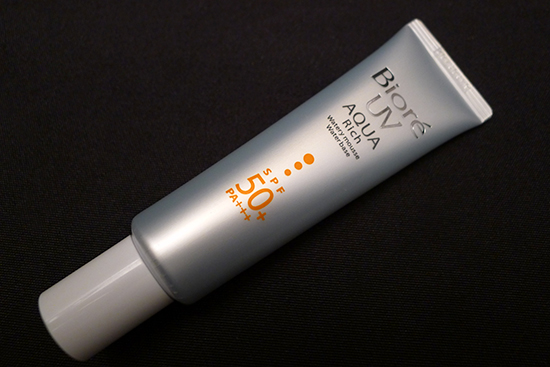 A quick scan of this ingredient list showed me that it contains quite a few citrus extracts – specifically Citrus Grandis (Grapefruit) Fruit, Citrus Medica Limonum (Lemon) Fruit Extract, and Citrus Aurantium Dulcis (Orange) Fruit Extract. Citrus extracts contain antioxidants, which are great in a sunscreen formula, but I am a little confused why the antioxidant source chosen would be citrus based. The reason it seems odd is that citrus is inherently photosensitizing, and can easily leave skin prone to burning. Since it wouldn't be good for business to make a sunscreen that burns people's faces, I'm guessing (this really is a shot in the dark) that the citrus extracts in Biore UV Aqua Rich Watery Mousse have been through a special distillation process, and/or are present in small enough amounts that it doesn't impact the efficacy of the UV protection ingredients. Speaking of UV protection ingredients, here are the UV protectors in this formula:
Ethylhexyl Methoxycinnamate – Also known as Octinoxate, this ingredient is a chemical sunscreen agent.  Of the chemical sunscreen agents, this is one of the gentler ones. Chemical sunscreens work by absorbing and subsequently down UV rays. Additionally, after UV exposure, all chemical sunscreens generate some free radicals in the skin, a byproduct of the absorption and breakdown process. The antioxidant ingredients in this formula (and most chemical sunscreen formulas) help to counteract the free radical effect.
Titanium Dioxide – This is a physical/mineral sun protection ingredient. Instead of absorbing UV rays, mineral sunscreens actually deflect the rays away from the skin. Titanium Dioxide is a great sunscreen ingredient for those with sensitive skin – along with Zinc Oxide, it's one of the most commonly used UV protectors in baby sunscreen.
Ethylhexyl Dimethoxybenzylidene Dioxoimidazolidine Propionate – This is an interesting one – this chemical UVA filter is an ingredient that is currently exclusive to Japan. I didn't know anything about it before I looked at the Watery Mousse ingredient list, and I'm sad to say – I still don't know much about it. I was very unsuccessful at finding any details on this ingredient, so I don't know much about its safety or efficacy. If anyone has more detailed information about Ethylhexyl Dimethoxybenzylidene Dioxoimidazolidine Propionate, I'd be grateful if you could share what you know!
I really like that Biore UV Aqua Rich Watery Mousse contains both physical and chemical sunscreens. That's my ideal in terms of UV protection. I only wish I knew more about the Ethylhexyl Dimethoxybenzylidene Dioxoimidazolidine Propionate ingredient.
As far as moisturizing ingredients go, most of the moisturizing properties in this formula are coming from Benhyl Alcohol (a fatty alcohol), Dimethicone, Polyglyceryl-3 Polydimethylsiloxyethyl Dimethicone, and Ceratonia Siliqua Gum.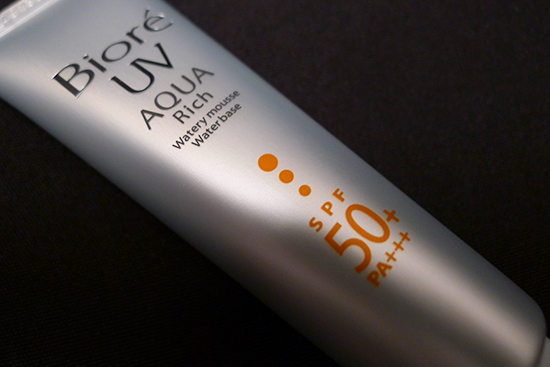 According to COSDNA, Biore UV Aqua Rich Watery Mousse does contain a couple of red flags. One of them is alcohol, which scores a 3 out 5 as a potential irritant. There are two schools of though on alcohol and the skin – there are some who believe that alcohol in any amount and in any formula is harmful to the skin. Then there are those who believe that alcohol, when included in a well-formulated product, can actually be beneficial because it increases the absorption of other skin care actives. Based on the research available, which is best summed up in this FutureDerm article, I'm inclined to fall into the "alcohol can be good in a well-formulated product" camp. That said, there is a lot of alcohol in this product – it's the fourth ingredient listed.
The other ingredient COSDNA warns against is Potassium Hydroxide, which scores a 5 our of 5 as a potential irritant. This ingredient is extremely caustic if it should come in contact with the skin on its own. In this formula, however, it acts as a pH adjuster – because it's balancing out a highly acid formula, it's already been reacted, and is therefore no longer an irritant.
Performance
Appearance
Biore UV Aqua Rich Watery Mousse comes packaged in a long, gray tube with a narrow dispenser.
The sunscreen itself is completely white, and somewhat thick – significantly thicker than the Watery Essence. The Water Mousse stands on its own, so if you were to dispense it on the back of your hand and then tilt your hand, there would be no drips.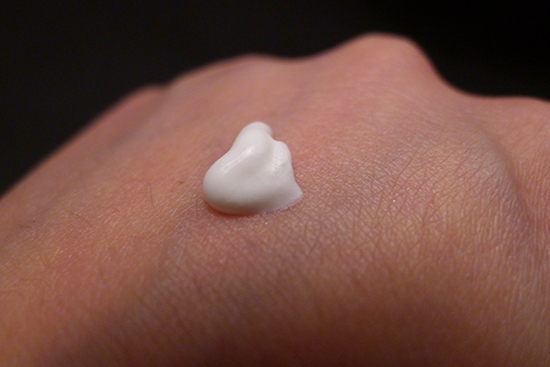 Smell
Biore UV Aqua Rich Watery Mousse smells significantly less like alcohol than the Watery Essence. There is still a faint alcoholic quality to the fragrance though, alongside with a subtle citrus and barely-there, ambiguously floral scent. The smell isn't very strong, and disappears upon application.
Application
The matter of when to apply this sunscreen is a little tricky. Normally I would apply a chemical sunscreen before my moisturizer, or a physical sunscreen after my moisturizer. The reason for this is that a chemical sunscreen works as a result of a reaction that takes place once the sun protection agent is absorbed into the skin, and applying it to bare skin allows this to happen faster, more evenly, and possibly more effectively. There's an excellent article available by a Dr.Neal Schultz that explains this concept in detail, which you can read here: Why Applying Sunscreen First Provides the Best Protection from the Sun
A physical sunscreen works by deflecting UV rays away from the skin and does not need to be absorbed in order to work. For this reason, physical sunscreen works best when it is applied after moisturizer.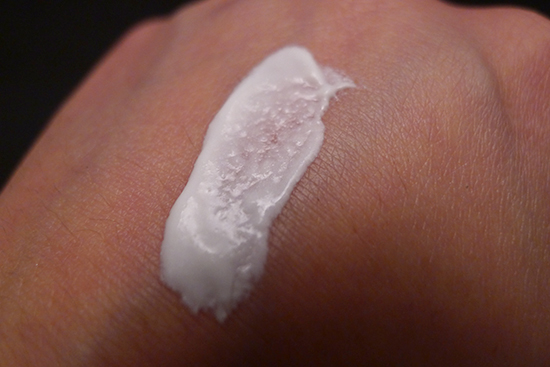 With a product like Biore UV Aqua Rich Watery Mousse, we have both chemical and physical sun protection ingredients. There's no official clinical stance on how to apply a product such as this one, as far as I know. I personally choose to apply it after my moisturizer, as the last step of my morning skin care routine. My reasoning is that applying this sunscreen under my skin care products will most certainly lessen the efficacy of the physical sunscreen component, while applying my chemical sunscreen last will not necessarily reduce the protection I get from it. I am careful to get an even application, and I always give it ample time to absorb appropriately – I wait about 10 minutes after my sunscreen application to start applying makeup.
I wear 1/4 teaspoon (roughly 2 mL per square cm of skin) on my face daily, which seems like quite a bit, but this is the recommended amount to get the full SPF/PA protection listed for any sun protection product. I apply it in two 1/8 teaspoon "doses," which makes rubbing in the necessary quantity of product significantly easier.
I find Biore UV Aqua Rich Watery Mousse takes more effort to be completely absorbed than the Watery Essence, which is no surprise considering the mousse's thicker texture and physical sunscreen ingredient. It's still easier to rub in than a majority of the Western sunscreens I've tried, and once it's been absorbed, it feels pretty light (though not as light as the Watery Essence).
There is a slight white cast just after application as a result of the Titanium Dioxide, but it disappears within a matter of minutes.
Results
Biore UV Aqua Rich Watery Mousse has a lot of good qualities for someone with my skin type. My skin is dry enough that this sunscreen could never be a substitute for my moisturizer, but it's certainly more moisturizing than the Watery Essence. I find this especially beneficial in the harsh, cold, dry winter weather we've been experiencing this season.
I've been wearing it daily for just about 29 days now. I'm currently on my second tube, so if you wear sunscreen every day, and you are wearing the recommended 1/4 teaspoon amount, be prepared to purchase a couple of tubes a month.
The sun protection aspect of the Watery Mousse seems to be very effective, though I still wish I knew more about the Ethylhexyl Dimethoxybenzylidene Dioxoimidazolidine Propionate. It's easy to tell when you're getting adequate UVB protection, since those are the rays responsible for both tanning and sunburn. UVA damage, however, is not immediately visible, and frankly, I find UVA to be much scarier since they are the rays responsible for premature aging and skin cancer. I try to take comfort in the fact that the one thing I know about Ethylhexyl Dimethoxybenzylidene Dioxoimidazolidine Propionate is that it is exclusively designed to protect against UVA rays.
Biore UV Aqua Rich Watery Mousse has not caused any breakouts, and it is not oily or greasy at all. In terms of its purported qualities of a makeup base, it does actually seem to extend the wear of my BB cream or foundation by a couple of hours.
Overall, I'm very happy with Biore UV Aqua Rich Watery Mousse. In spite of its few shortcomings, it shares a place with the Watery Essence as one of my most-reached-for sunscreens. I now have a decent supply of both the Watery Essence and the Watery Mousse. One does not replace the other for me; they each have their uses and I choose which one I wear depending on the weather and the way my skin feels that day. However, I wouldn't label either of them my Holy Grail sunscreen because I have some minor ingredient misgivings about each of them. I'm still searching for my HG sunscreen, but until then, the Watery Mousse and the Watery Essence both come very close!
Pros :
- SPF 50 / PA+++ UVB/UVA protection
- Provides both physical and chemical UV protection
- Lightweight (but not as lightweight as Watery Essence)
- Non-greasy
- Non-drying
- Provides adequate amount of supplemental moisture for dry and very dry skin types (when used in conjunction with regular moisturizer)
- Prolongs wear of foundation or BB cream by a couple of hours
Cons:
- Not a lot of data readily available concerning one of the primary UVA absorbers
- Takes a little longer to absorb due to thicker texture
- Briefly leaves a white cast after application
Skin & Tonics Rating:
Performance: 4/5 – Feels weightless, provides broad spectrum protection, extends the wear of foundation, non-drying
Ingredients: 3/5 – I have some concerns about the citrus ingredients, and very little information about one of the primary UVA absorbers. Otherwise, it's a decent formula with few irritants.
Packaging: 5/5 – Small enough to slip into a purse, non-messy dispenser tip
Overall: 4.0/5
Is it worth the money?
Yes, Biore UV Aqua Rich Watery Mousse is worth the money, especially if you have dry skin. It retails for around $13, but be prepared to spend twice that amount in a month – wearing the recommended quantity of sunscreen means you'll burn through a tube of this quite quickly.
Where to Buy
I initially bought my Biore UV Aqua Rich Watery Mousse from Sasa, but my second purchase came from eBay seller hot_jupitor36go. One tube is just under $13, but buying multiple tubes does get you a little discount. The products ship for free from Japan.
This post contains affiliate links. Shopping these links helps support this site! Full disclosure.